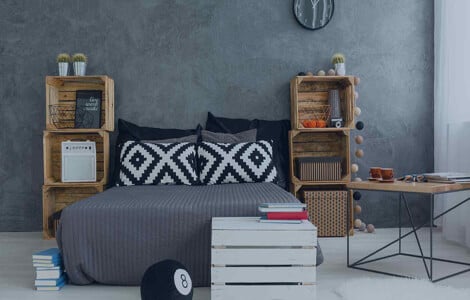 Monticello Villas - Barangay Balabag, Pavia, Iloilo is the location for this magnificent development. The 61 hectare residence is security conscious, guarded by security 24/7 for the peace of mind of the residents. This exclusive community is perfect for any family. Close enough to local amenities, schools doctors, hospitals and other commercial facilities, but far enough for you to escape the humdrum of city life.


Ilustrata Residences - Spacious condominium living, studio and one bedroom units ready to move in. Located in Quezon City,Ilustrata, along Bonny Serrano Avenue. Strategically located near places of interest. A first choice for a place to call home for modern families, new families and your professionals. Feel the buzz amidst New Manila and Greenhills.
Suntech I-Park - The first office block development for Pro Friends. Situated in Lancaster New City. Modern architecture and environmental design make use of natural light and open spaces to create an environment that is second to none, promoting creativity and productivity, exactly what you need in a workspace. Accredited by PEZA, this development is set to be a major contributor to growth within the area.

With so many other well-situated developments, providing good quality of life, affordability, comfort, security and convenience, you will certainly be spoiled for choice. Each of our locations is carefully considered for aesthetics, convenience and safety before we begin to develop. The communities are carefully planned and design is work of wander. Everybody deserves a place to call home. A place where the stress of the day can be forgotten while you play with your children or spend quality time with your loved ones. Escape the madness of city life but stay close enough in reach that daily commuting is a breeze. Find solace is beautiful surroundings and fresh air.

Other residences you should definitely consider

Careers With Pro Friends

Every company requires good employees and Pro Friends is no different. The company would never have reached the heights it has without the hard work of their loyal and dedicated staff members. Personal and career development is important to any person and what we provide our employees serves to enrich their lives in more ways than one. Pro Friends provides a second home for the employees, a place they feel comfortable and safe to be themselves.

At Pro Friends they believe that constant learning and progressing is the only way to reach service excellence. The employees are offered chances at bettering themselves through courses and education. Become an expert in your field of concentration.

Pro friends is always on the search for dynamic staff that can change the face of history. If you seek the thrill of excitement and welcome the challenge of reaching service brilliance, Pro Friends is looking for you.

Pro Friends is really in it for the people of the Philippines. Whether you are looking for a home out of the way of the busy streets and buzzing city or you can't bear the thought of leaving the bright lights behind each day, carefully selected locations provide you with what you need, what you deserve. Architectural brilliance, modern and traditional design, backdropped by magnificent views. Amenities on offer cater for both function and luxury in every possible way. Conveniently located for easy access to transportation routes, keeping you in contact whether out of the way or not. You can always be assured that every day facilities are a stones throw away. Bond with your family while enjoying the activities on offer at each of our residences, enjoy quality time with friends or simply take in the tranquil surroundings on a walk through the sprawling parks. Nature so close to you, smell the fresh air and get lost in a world of your own. This is where you want to build your family, your future. Create lasting memories and leave a legacy behind for your children to continue.

Pro Friends in easily contactable for information on any of their locations or residential developments. You can get hold of them via their head office or alternatively through any one of their many satellite offices scattered throughout the country. There is always a friendly staff member waiting to assist you in finding the perfect home for your family. If your business needs that boost or a change in location, call Pro Friends and allow them to take you on a tour of the commercial developments on offer. They are skilled and have the knowledge and experience to guide you to your perfect location. Never short on service and never short on quality.

Every Filipino deserves a chance at the good life and with Pro Friends it is easy, affordable and a choice you will never regret.